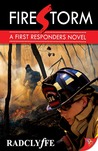 Firestorm
by
Radclyffe
My rating:
4 of 5 stars
"
Firestorm"
is the second book in Radclyffe's First Responder series. I thoroughly enjoyed reading it!
Mallory "Ice" James is a firefighter paramedic working for the U.S. Forest Service. She commands a team of twenty men & women smokejumpers & trains all the new rookies that come through. Ice runs a tight crew & maintains tight control on everything in her life. Her goal is to keep her team safe. However, something she has no control over is a last minute applicant, rookie Jac "Hotshot" Russo.
Jac has the skills to get & do the job on her own merits, but her Senator father pulls some strings to get her accepted before the others before her. This starts her off on the wrong foot with Mallory, so she feels she has to prove herself to the captain. Jac has spent her life hiding from the politics of her father. She's learned to guard herself closely & not let anyone into her life.
Neither Mallory nor Jac were ready for what happened next.
Radclyffe does an awesome job of bringing these two women to life. The emotions are high & the love scenes are hot, & the book was too short! There were parts in this book where I would have loved for the author to carry on further. There is so much more that screamed to come out in this story. I would have loved to learn more of Jac's mother, who seemed shoved into this political life just as everyone else. With this political family, it seemed Jac's father pushed the political agenda more so than her mother did.
I'd love to imagine the outcome of Hooker when that day arrives, where Jac or Mallory, or both, let him feel their fury!
Although I would have loved this story to have been longer & beefed up a little more, it was still very balanced with storyline & all the extra characters with the personal relationship between Mallory & Jac. The emotions, the passion, & the sexual tension were intense! I loved it!
View all my reviews